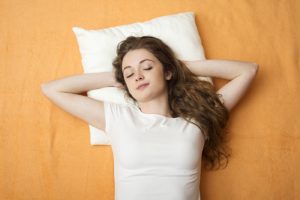 Dealing with the events of the past six months have left many of us feeling totally exhausted and depleted.  This whole thing has dragged on so long that our psyches are collectively on overload.  It is difficult enough to deal with one stressful event at a time, but add all of what is going on now together and it's no wonder that many of us feel we are at our breaking point.
There is hope, however.  What can we do?
Rest.
Really?
Yes, it's really very simple.  And one of the best ways I know of to get deep rest is with something called Yoga Nidra.
What in the world is Yoga Nidra?  Is it that thing where you have to twist your body parts into something that resembles a pretzel?  How could that possibly be restful?
Yoga nidra is not about twisting into a pretzel.  Yoga nidra meditation is "yogic sleep." Through a series of guided instructions the body is led into a state of supreme relaxation where the unconscious and subconscious mind awaken, opening the potential for deep healing.
You get to lie down the whole time. Initially, yoga nidra feels like a really nourishing nap, but ultimately the intention of yoga nidra is to liberate a person from suffering. Forty-five minutes of yoga nidra meditation feels like three hours of sleep in the body.
Key Benefits of Yoga Nidra are:

Minimizes tension and counteracts stress
A person is guided to delta and theta brainwaves, and as a result experiences the deepest state of relaxation
Improves sleep and reduces insomnia
Reduces chronic pain
Reduces PMS
Awakens creativity
Enhances memory and learning capacity
Clears up negative emotions, thoughts and habits
Brings more joy to a person's life
Plants the seeds for positive personal growth
If you'd like to give yoga nidra a try, join my free three-day program below!
I'd love to hear your thoughts on this blog post, or any questions you have about mental health.  Please post your comments/questions below.